15 Things Photographers Look For When Testing Stylists
Oct 02, 2023
Thinking about doing a Photography Testing? If a Photographer asks to test with you to see if they can work with you on an assignment with their clients, THIS is what they are looking for in YOU: (While important, It's not just about how beautiful our styling is.) They are looking for your your skills and traits.

WHAT PHOTOGRAPHERS LOOK FOR IN A PHOTO AND PROP STYLIST


Do you arrive on time?
Is your styling kit well stocked?
Do you have the right tools and supplies for the job?
Are you organized?

Are you efficient?
Does it take you "longer than expected" to complete or style job?
Do you bring a variety of options ~ surfaces, props, etc?
Do you give creative suggestions for the project?
Do you adhere to "Studio Etiquette"?
Manners and personality?
Stubborn or rigid in your styling? With a "I'm the Stylist "attitude"
Do you know how to troubleshoot problems and dilemmas?
Do you clean up well during and after the photo shoot?
Do you work well with the Photographer & Team?

Are you collaborative?
Can Photographer and Team imagine working long-hours with you?
Are you a "clock watcher"? With a "are we almost done yet" vibe?
︎
But, remember, YOU are doing the "Testing" as well! ;) YOU may not want the job you are being tested for. It works both ways. Like:

WHAT A PHOTO STYLIST LOOKS FOR IN A PHOTOGRAPHER
Do YOU like working with the Photographer and Team?
Were YOU treated fairly and respected?
Did they adhere to YOUR guidelines? (Have guidelines!)
Did they fulfill their promise of testing with YOU? (number of photos given to you, timeline of delivery of photos, etc.)
Did they push any limits with YOU? Like did they give you a wrap time of test day and then try to extend and keep you longer? (Red Flag Alert: This may be a "scope creep" ;) client!)

Remember that Photographers are our team mates. Try to have the mindset that you are working WITH not FOR a Photographer. But, of course we do want Photographers to love us and hire us. ;) We talk about ways to make that happen in 15 Tips For Photo Stylists Working with Photographers.

BEFORE YOU EVEN THINK ABOUT TESTING WITH A PHOTOGRAPHER, THIS IS THE NUMBER ONE FACTOR.

This mostly goes for if you are testing to get styling photos for your portfolio. First and Foremost, does the Photographer's style that you will be testing with MATCH the style, mood, vision, photography that YOU WANT in your portfolio? Photographers' (Like us Photo Stylists) all have a unique style ~ colors they use, lighting they use, models they use (children or adults?) products instead of lifestyle. Be strategic. Style, Shoot and Show the work you want to get hired to do. If you like to style with bright, neon colors ~ do not test with a photographer that shoots only dark and moody images. Be strategic. Yes, while we all want jobs ~ and we are thankful when prospective clients want to test with us, (or hire us) It's ok (more than ok.) to find a good fit of photographers and clients for yourself.
** However, from an experience standpoint, it's ALWAYS great to get into the studio, hone our styling craft and meet new creatives! ~ always! **
What do you think? What qualities do YOU look for in a Photographer and client?
HAVE GUIDELINES FOR TESTING WITH PHOTOGRAPHERS


Think about YOUR Guidelines when agreeing to do a Test Shoot with a Photographer. Here are some suggested ones for you. (& Cheatsheet for you below)

ALL IMAGES FROM SHOOT. f you are looking to add images to your Portfolio, testing may be a good option to do that.


5 RETOUCHED IMAGES FROM TEST SHOOT. You do want the best images in your Portfolio, so require retouched images. (You can request more, of course!)


TIME LIMIT ON TEST SHOOT. You may want to limit the time you give a Photographer when styling a no charge test. (1/2 day shoot? 6 hours?) You decide.


EXPENSES OF TEST SHOOT. Expenses to do a creative photo shoot can add up. You can require expenses be paid. (or you share some costs.) Your time (& expenses of doing shoot) can add up! (It may cost you alot to do the shoot!) BUT, remember, it costs a Photographer time and money as well. (They could be hiring a retoucher, renting equipment, etc.)

TIMELINE OF TEST SHOOT IMAGES. You could wait a long time for test images (or not receive them at all!) Require a timeline to receive images and put date in an email agreement when you are to receive them.
ADDITIONAL THINGS TO THINK ABOUT

▪Photo Stylists' have told me they have tested and never received their images from the Photographer. There is nothing wrong with doing an agreement via email. (Legally binding, if the Photographer sends back an email agreeing to your terms.) Make sure you get that agreement email back, before you prepare for the photo shoot test.
▪ I do not charge for anything that is customarily in my Styling Kit, I consider that just part of testing or doing Collaborative Styled Photo Shoots. Nature of the biz! Both you and the Photographer have costs. However, tests can cost you money ~ be strategic.
▪You can get items for your testing photoshoots from supplies and vendors to cut down with cost of shopping for items. (I call upon my wardrobe brands and home lifestyle brands to lend me items for collaborative or testing shoots.) They will not get photo credit for these types of shoots, so lending items to you for this scenario is based on trust, time and usually from a history of working with you.)
▪ Attached an email sample for you below. Make sure your email is "short & sweet"! You don't want to send a lengthly, complicated email.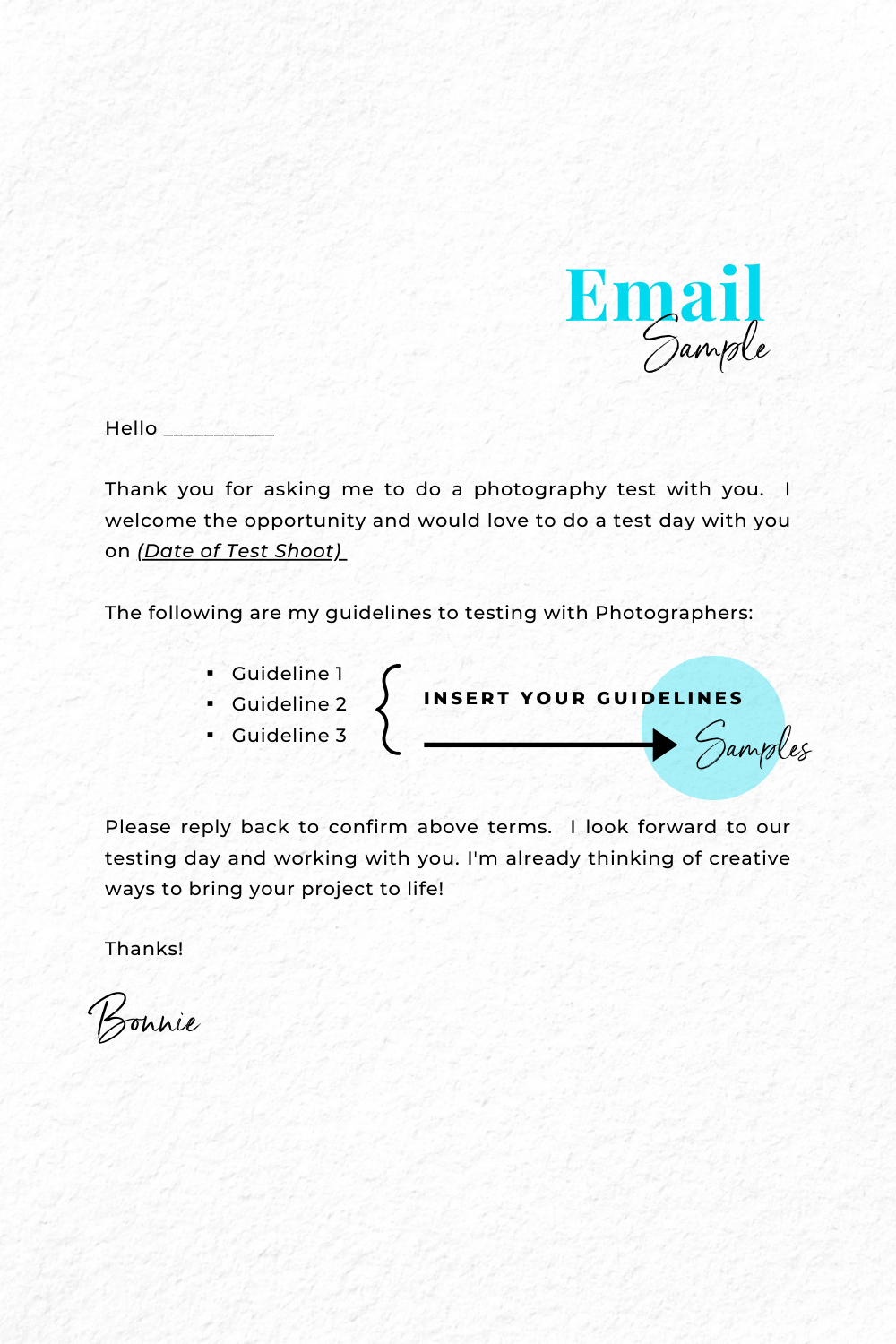 I have tested (only paid testing) and I have done collaborative styling photo shoots with Photographers and team of creative professionals. My Photographs I have received through collaborations have been some of my absolute favorites in my Portfolio. While I have given my time, talent and resources THOSE images have gotten me MORE (great paying, booked at my full day rate) work. It goes back to the theory I have ~ Style, Shoot and Show the work you want to get hired to do. Oftentimes, testing and collaborations give you a great opportunity to create images for work you want to get hired to do.
To get images for your portfolio, (outside of getting hired by clients) there are a couple options. Testing and collaborative styling photo shoots. If interested in Collabs, we have a Guide in our Resources Library, Collaborative Styled Photo Shoot Guide, which includes a sample outreach letter.
If you have any questions ~ reach out!


Bonnie ~
FREE Business of Photo Styling Guides to help with your Styling Business! Check them our in our Resource Library.
GUIDES